Frequently Asked Questions
Got a question?
We have provided some general facts and information about Grenada, as well as some frequently asked questions about some of the services we offer at Eco Dive. If your question is not listed here in FAQs or covered on our webpage, please do not hesitate to contact us for more information. The information outlined below is subject to change without notice. Please always check for the latest page update.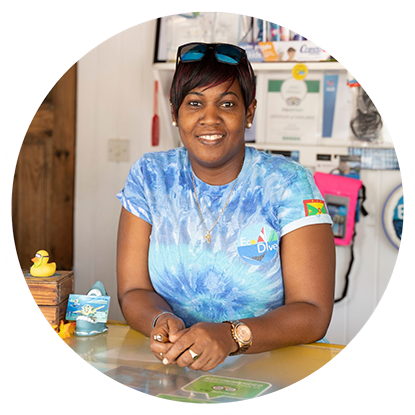 General FAQs on Grenada
Tell Me About Grenada
sysadmin
2019-09-30T18:35:36+00:00
A three-island nation located in the Eastern Caribbean, Grenada has approximately 100,000 inhabitants and is the most southern of the Windward Islands.
Grenada and its two sister islands (Carriacou and Petite Martinique) are blessed with beautiful lush green vegetation and mountain top, acres of land covered with fragrant spice trees and rare tropical flowers. Bordered by stunning beaches, and dotted with beautiful towns, this island major source of export is nutmeg, cloves, ginger, cinnamon, vanilla and cocoa. It is why Grenada second most popular name is the 'Isle of Spice.'
In the interior of this volcanic island are rainforests watered by cascading rivers and waterfalls as well as one of the most stunning mountain lakes, the Grand Etang. The capital, St. George's, is widely held to be the most picturesque city in the Caribbean. Softly colored dockside warehouses and red-tiled roofs of traditional shops, surround its horseshoe-shaped harbor.
The island is ringed with miles of picture-perfect strands, including both entrancing black and sugar-fine white sand beaches. Grand Anse Beach, a smooth expanse stretching for two miles around the curve of a gentle bay, is world famous. Grenada has plenty to offer those interested in offshore pleasure as well, with easily accessible and pristine reefs off the coast of both Grenada and its sister island, Carriacou.
For more information, please visit www.puregrenada.com
Daily Tours
Where do I meet and How do I get there?
sysadmin
2019-09-30T18:30:57+00:00
Eco Dive is located on Grand Anse Beach in the Coyaba Beach Resort. We also have a satellite office located in Port Louis Marina in St. George's town.
Both locations are conveniently located and can be accessed by car, public transportation, or walking if staying in the Grand Anse area. Pick-ups and drop-offs can be arranged, if booked in advanced and depending on availability.
What do I need to bring with me?
sysadmin
2019-09-30T18:31:27+00:00
Probably much less than you think. Based on your daily tour bookings or reservations, what you need to bring may vary.
For snorkelers, all equipment is provided and included in the cost of your tour. Obviously, if you have any of your own personal equipment that fits and works for you, you're are more than welcome to bring it along. Drinking water is provided on the boat. Bring a towel and maybe some reef safe sunscreen wouldn't hurt as well. But most importantly bring your smile.
For scuba divers, rental equipment is available and will be based on your bookings. You will need to bring swimwear, a towel, sunscreen and for our friends from colder climates who find our temperate Caribbean water too warm for a wetsuit maybe a t-shirt or rash guard to wear under your scuba gear.
Snorkeling
Will I sink?
sysadmin
2019-09-30T18:33:34+00:00
No, absolutely not! All snorkelers are given floatation vests to wear and our sea water is very buoyant, keeping swimmers and snorkelers effortlessly on the surface to enjoy the view.
Will I see sharks and do the fish and turtles bite?
sysadmin
2019-09-30T18:33:58+00:00
On the calm 'Caribbean Sea' side of Grenada the chances of seeing a shark while snorkeling are small. So small in fact that one has never been reported on a snorkeling tour. The fish and turtles are harmless on all counts however will come close enough for that perfect Instagram moment.
Will I be able to see the corals and statues from the surface?
sysadmin
2019-09-30T18:34:27+00:00
Our snorkelling sites have been specially selected by our team and are tried and tested so you have the best experience possible. Whether snorkelling on the Reefs of Flamingo Bay and Dragon Bay or in the worlds first underwater sculpture park at Molinere Point the bottom will never be more than 25ft \ 9m away.
Scuba Diving
How old do you have to be to learn to dive?
sysadmin
2019-09-30T18:18:13+00:00
Eco Dive divers can begin their underwater adventure at just 8 years old in the swimming pool with PADI Bubblemaker Programme and 10 years old in the ocean. There is no upper age limit for diving however all divers should be in good physical health. If you have medical concerns please contact your medical doctor and ask them about your status and diving.